Halloween Spiderweb Metal Sign
Create a Spooky Atmosphere
Add an eerie touch to your Halloween decor with the Halloween Spiderweb Metal Sign. This customizable wall art featuring an intricate spiderweb design and your family name is the perfect way to infuse your home with a personalized touch of spookiness and create a memorable ambiance for the Halloween season.
A Hauntingly Beautiful Decoration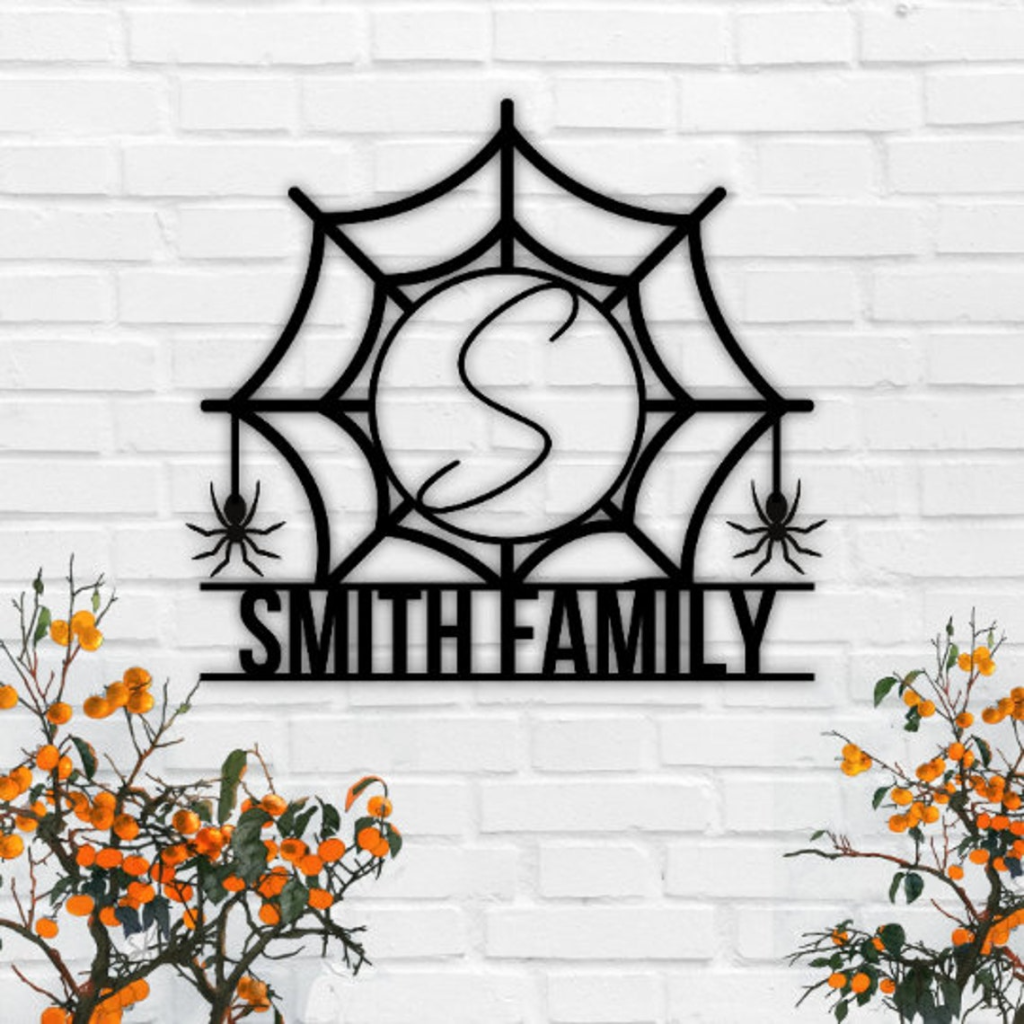 The Halloween Spiderweb Metal Sign is not your typical Halloween decoration. It's a unique and stylish piece that will stand out in any setting. The intricate spiderweb design adds a touch of sophistication to the spooky theme, making it an eye-catching focal point in your home.
Customization Options
Make this metal sign truly yours by adding your family name to the design. The customization options allow you to create a one-of-a-kind Halloween decoration that reflects your family's spirit and adds a personal touch to your home.
Durable and Easy to Display
Crafted from high-quality metal, this spiderweb sign is not only stylish but also durable. Its black finish adds to the spooky vibe and ensures it complements various Halloween decor styles. Plus, the sign comes with pre-drilled holes, making it easy to hang on your walls or doors.
A Unique Halloween Gift
If you're looking for a special Halloween gift for a friend or family member, the Halloween Spiderweb Metal Sign is a great choice. Personalize it with their family name, and you'll have a thoughtful and memorable present that they can display proudly year after year.
Create a Memorable Halloween Setting
Set the stage for a spooktacular Halloween with the Halloween Spiderweb Metal Sign. Hang it in your entryway, living room, or any area that needs a touch of Halloween magic. Pair it with eerie lighting, creepy cobwebs, and other Halloween decorations to create an unforgettable atmosphere.
Final Thoughts
Elevate your Halloween decor with the Halloween Spiderweb Metal Sign. Its customizable design, durable construction, and easy display make it an essential addition to your home. Let it be the centerpiece of your Halloween decorations and add a touch of spookiness and personality to your space. Celebrate the season with this unique and stylish metal sign that will leave a lasting impression on all your guests.