Motorcycle Biker Grave Marker Metal Garden Stakes
Commemorate the memory of a Motorcycle Biker Grave Marker Metal Garden Stakes. These garden stakes also serve as heartfelt sympathy gifts, offering solace and support to those who have lost a beloved rider.
Celebrating the Spirit of a Motorcycle Biker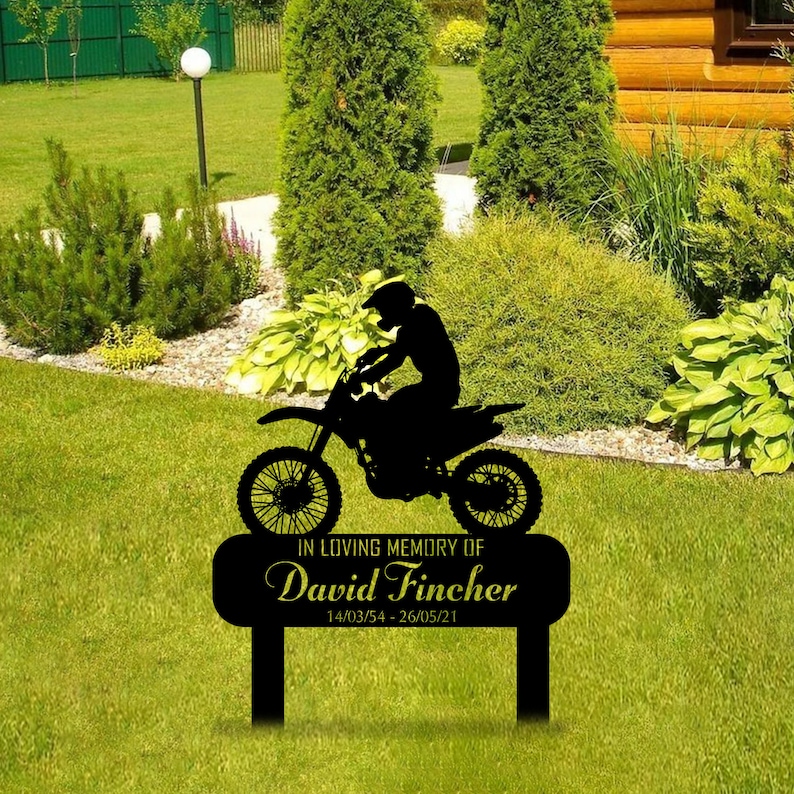 The design of these Metal Garden Stakes features a bold motorcycle, a symbol of the adventurous spirit and love for the open road that defined the biker's life. These stakes pay tribute to the unique bond shared with a motorcycle enthusiast who embraced the thrill of the ride.
The Motorcycle Biker Grave Marker Metal Garden Stakes capture the essence of the biker's passion, reminding all who see them of the exhilaration and freedom found on two wheels. These stakes represent the cherished memories of a motorcycle biker's journeys and the wind in their face as they roared down the highway.
Thoughtful Memorial and Sympathy Gifts
Losing a beloved motorcycle biker leaves a profound void, and these garden stakes provide a way to express condolences and stand in solidarity with those in mourning. By offering these garden stakes as sympathy gifts, you share in the remembrance of someone who lived life to the fullest on a motorcycle.
Crafted with care and durability, these metal garden stakes are built to withstand the elements, ensuring they remain a lasting tribute to a passionate motorcycle biker. They serve as a reminder that while the rider may no longer be with us, their memory lives on in the hearts of those who shared the road with them.
Whether you use these garden stakes to create a personalized memorial for a beloved motorcycle biker or offer them as sympathy gifts to others who grieve the loss of a rider, the Motorcycle Biker Grave Marker Metal Garden Stakes offer a meaningful and compassionate way to remember. Their depiction of a motorcycle, their strength, and quality craftsmanship make them a fitting tribute to honor and celebrate a motorcycle biker's adventurous spirit and the countless miles they traveled.