Welcome to a Witchy Halloween
Embrace the Spooky Spirit
Step into a world of magic and mystery with the Personalized Witchy Halloween Metal Sign. This custom family name welcome sign is the perfect addition to your Halloween decor, creating an enchanting and spellbinding atmosphere that will captivate and charm all who enter your home. Welcome your guests to a witchy wonderland with this personalized and bewitching metal sign.
Create Your Own Witchy Wonderland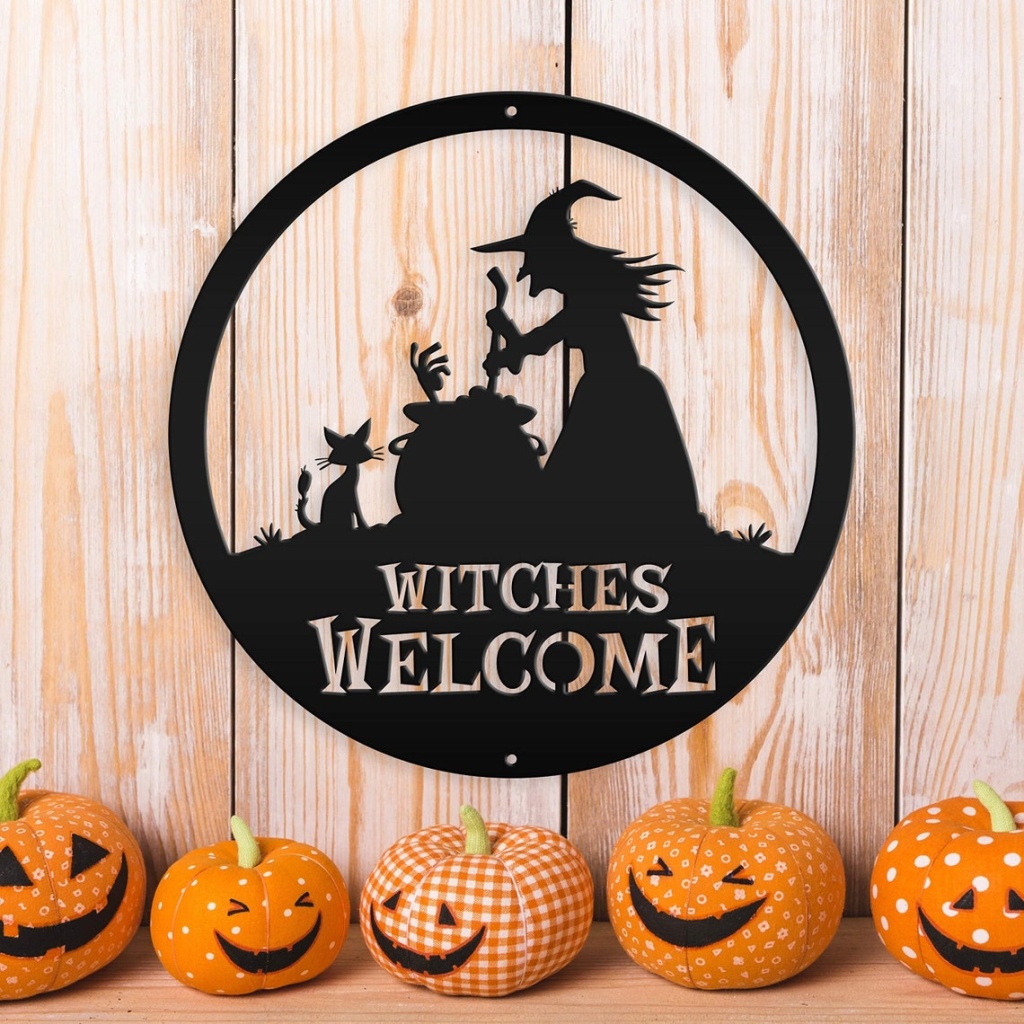 What makes the Personalized Witchy Halloween Metal Sign truly magical is that it's fully customizable. Add your family name or a witchy Halloween message to make it uniquely yours. Choose from various font styles, colors, and design options to create a one-of-a-kind sign that perfectly complements your home and Halloween theme.
Premium Quality for a Spellbinding Display
Crafted with attention to detail and made from high-quality metal, this witchy Halloween metal sign is built to impress. Its durable construction ensures that it will withstand the elements, making it suitable for both indoor and outdoor use. This means you can proudly display your personalized sign year after year, creating a magical tradition that brings joy and wonder to all.
A Charming Gift Idea
Looking for a special Halloween gift for friends or family who love all things witchy? The Personalized Witchy Halloween Metal Sign is a charming and memorable present that will cast a spell on any Halloween enthusiast. Customized with their family name, it's a gift that shows you've put thought and effort into creating something uniquely magical just for them.
Easy to Display and Delight
Installing the Personalized Witchy Halloween Metal Sign is a breeze. With pre-drilled holes and mounting hardware included, you can quickly and securely hang it on your front door, porch, or any wall in your home. Its lightweight design makes it easy to move around, allowing you to find the perfect spot to spread the magic.
Embrace the Witchy Vibes
Embrace the witchy vibes of Halloween with the Personalized Witchy Halloween Metal Sign. This charming and customized sign will instantly elevate your Halloween decor and add a touch of magic to your home. Let the enchantments begin as you celebrate this wonderful season with your personalized metal sign.
Final Thoughts
The Personalized Witchy Halloween Metal Sign is the perfect way to add a personalized and enchanting touch to your Halloween decor. Its premium quality, easy installation, and customizability make it a standout piece for the season. Embrace the magic and mystery of Halloween with this bewitching and welcoming metal sign that will make your celebrations truly spellbinding.