Introducing the Personalized Pumpkin Patch Farmhouse Address Sign
Add a Spooky Twist to Your Halloween Decor
If you love the excitement and spookiness of Halloween and want to add a festive touch to your home, the Personalized Pumpkin Patch Farmhouse Address Sign is the perfect choice. This custom metal sign not only displays your house number with style but also captures the essence of a pumpkin patch, making it an ideal addition to your Halloween decorations. With its personalized design and farmhouse aesthetics, this address plaque will create a charming and inviting atmosphere during the Halloween season.
A Festive Pumpkin Patch Design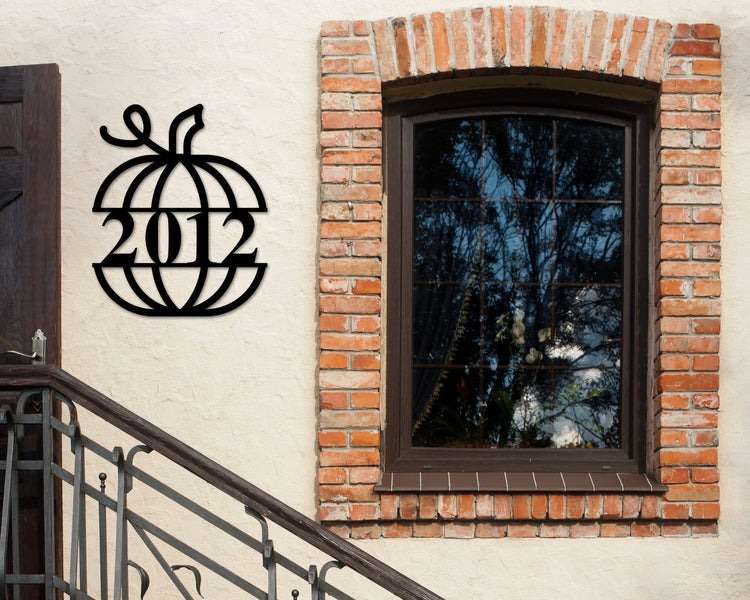 The centerpiece of this address sign is a delightful pumpkin patch design, featuring a variety of pumpkins in different shapes and sizes. This playful depiction of a pumpkin patch brings to mind the excitement of picking out the perfect pumpkin for carving or decorating. Whether you have a farmhouse-style home or simply want to infuse your space with a touch of Halloween spirit, this address plaque will add a festive flair to your outdoor decor.
Personalize Your Address
What sets this address sign apart is the ability to personalize it with your house number. Whether you have a single-digit or a multi-digit address, the custom metal sign can be tailored to fit your needs. The numbers are artfully integrated into the pumpkin patch design, adding a unique and personalized touch to your Halloween decor. You can choose from various font styles and sizes to match your personal preferences.
Durable and Weather-Resistant
Crafted from high-quality metal, this address sign is built to withstand the elements. The materials used are sturdy and weather-resistant, ensuring that the sign remains vibrant and intact throughout the Halloween season. Rain, wind, or harsh sunlight won't fade or damage this sign, allowing you to enjoy its festive charm year after year.
Easy Installation
Installing the Personalized Pumpkin Patch Farmhouse Address Sign is quick and hassle-free. The sign comes with pre-drilled holes and mounting hardware, allowing for easy attachment to your desired location. Whether you choose to display it on your front door, porch, or a designated signpost, the installation process is straightforward and convenient.
An Ideal Gift for Halloween Enthusiasts
If you're searching for a unique and festive gift for someone who loves Halloween, look no further. The Personalized Pumpkin Patch Farmhouse Address Sign is a memorable and personalized present that will bring joy and excitement to their Halloween decor. Its combination of festive design, customization, and durable construction makes it a perfect choice for housewarmings, birthdays, or any Halloween-themed occasion.
Conclusion
The Personalized Pumpkin Patch Farmhouse Address Sign is more than just an address sign; it's a delightful addition to your Halloween decor. With its festive design, personalized options, and durable construction, this custom metal sign adds a touch of charm and whimsy to your home during the Halloween season. Embrace the spirit of Halloween and create a festive atmosphere with this unique and enchanting address plaque.