Scary Black Cat Metal Sign – Halloween Yard Decoration
Embrace the Spooky Season
Halloween is the time when darkness falls, and the creatures of the night come out to play. Set the perfect eerie scene in your yard with the Scary Black Cat Metal Sign. This spooky outdoor decor art will add a touch of mystique and charm to your Halloween decorations.
A Frightful Feline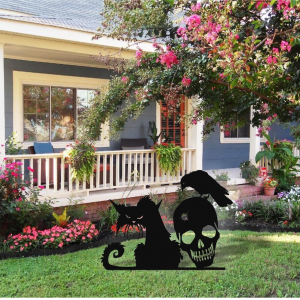 Prepare to be spooked by the Scary Black Cat Metal Sign. This ghoulish cat silhouette captures the essence of Halloween, with its arched back, glowing eyes, and menacing posture. It's the perfect addition to your Halloween decor and will surely send shivers down the spines of your guests and trick-or-treaters.
Quality Craftsmanship
Made from high-quality metal, this Halloween yard decoration is designed to last. Its durable and weather-resistant construction ensures that it can withstand the elements and be displayed outdoors throughout the Halloween season.
Customizable and Versatile
The Scary Black Cat Metal Sign is customizable, allowing you to make it uniquely yours. Add your family name or a spooky message to create a personalized touch. Whether you hang it on your front door, garden fence, or a tree, this versatile decor piece will make a statement wherever it's displayed.
A Bewitching Atmosphere
As the moon rises on Halloween night, the Scary Black Cat Metal Sign will cast an enchanting spell over your yard. Its haunting presence will create a bewitching atmosphere that will delight and frighten all who pass by.
Perfect for Halloween Enthusiasts
If you're a Halloween enthusiast who loves to go all out with your decorations, the Scary Black Cat Metal Sign is a must-have. It will instantly elevate the spookiness of your yard and showcase your love for the haunted season.
A Spine-Chilling Gift
Looking for a spine-chilling gift for a fellow Halloween lover? The Scary Black Cat Metal Sign is a fantastic choice. Give them this frightful feline as a Halloween present, and they'll be thrilled to add it to their collection of Halloween decor.
Final Thoughts
Embrace the spirit of Halloween with the Scary Black Cat Metal Sign – a Halloween yard decoration that will add a touch of spookiness and charm to your outdoor decor. Let this eerie feline be your guide to a hauntingly delightful Halloween season. Get ready for a night of frights and delights with this bewitching outdoor art!