Skeleton With Spider Metal Sign
Add a Spooky Touch to Your Halloween Decor
Get ready to create a bone-chilling atmosphere with the Skeleton With Spider Metal Sign. This Halloween decoration is the perfect addition to your home decor to add a touch of spookiness and intrigue.
A Hauntingly Realistic Design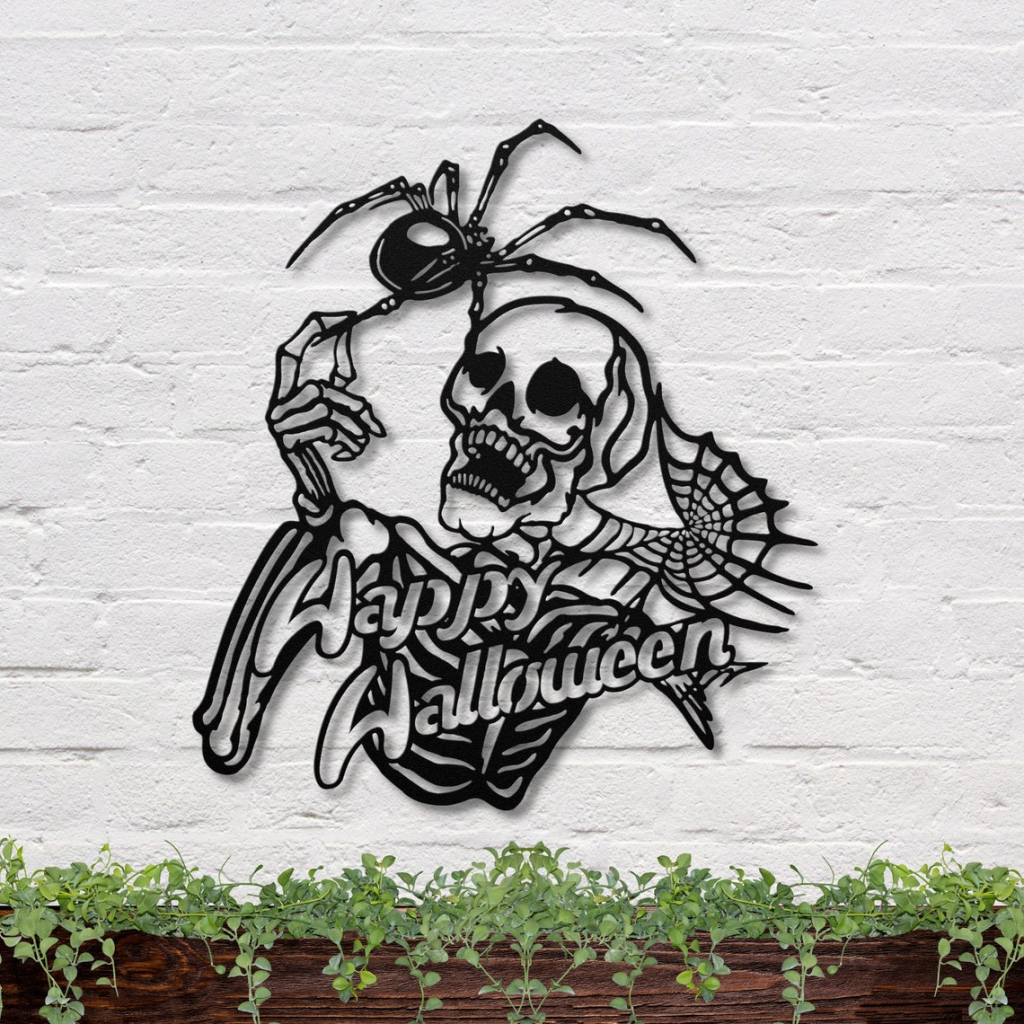 The Skeleton With Spider Metal Sign features a life-like skeleton design entwined with a creepy spiderweb and a menacing spider. Its realistic and detailed depiction will surely send shivers down your guests' spines and set the perfect Halloween mood.
Quality Craftsmanship
Constructed from durable metal, this sign is built to last and withstand the elements. Its high-quality craftsmanship ensures that it will remain a part of your Halloween decor for years to come.
Easy Installation
The Skeleton With Spider Metal Sign comes with pre-drilled holes and mounting hardware, making it easy to hang on walls, doors, or fences. You can quickly and effortlessly add this eerie decoration to any area of your home.
Create a Spooky Scene
Hang the Skeleton With Spider Metal Sign in your living room, on your porch, or in your yard to create a spooky and haunting scene. Pair it with other Halloween decorations, like cobwebs, bats, and pumpkins, to enhance the overall creepy ambiance.
A Memorable Halloween Party
If you're hosting a Halloween party, this sign will be a standout addition. Your guests won't be able to resist the spine-chilling allure of the Skeleton With Spider Metal Sign, making your party an unforgettable experience.
Perfect Gift for Halloween Enthusiasts
Looking for a Halloween gift that stands out? The Skeleton With Spider Metal Sign is a thoughtful and unique present for any Halloween enthusiast. Surprise your friends or family with this spooky sign, and they'll appreciate your attention to detail.
Enhance Your Halloween Decor
The Skeleton With Spider Metal Sign is the perfect finishing touch to your Halloween decorations. Its haunting design and sturdy construction make it a standout piece that will impress anyone who sees it.
Final Thoughts
Embrace the spirit of Halloween with the Skeleton With Spider Metal Sign. Its spine-chilling design, quality craftsmanship, and easy installation make it an ideal choice for adding a spooky touch to your Halloween decor. Set the scene for a hauntingly fun night and welcome the Halloween season with this eerie and captivating sign.