Trick or Treat Metal Sign
Embrace the Spooky Fun of Halloween
Get ready to embrace the spookiest time of the year with the Trick or Treat Metal Sign. This eerie and chilling metal sign is the perfect addition to your Halloween home decor, adding a touch of horror and mystery to your space as you welcome trick-or-treaters and guests.
A Haunting Witch Design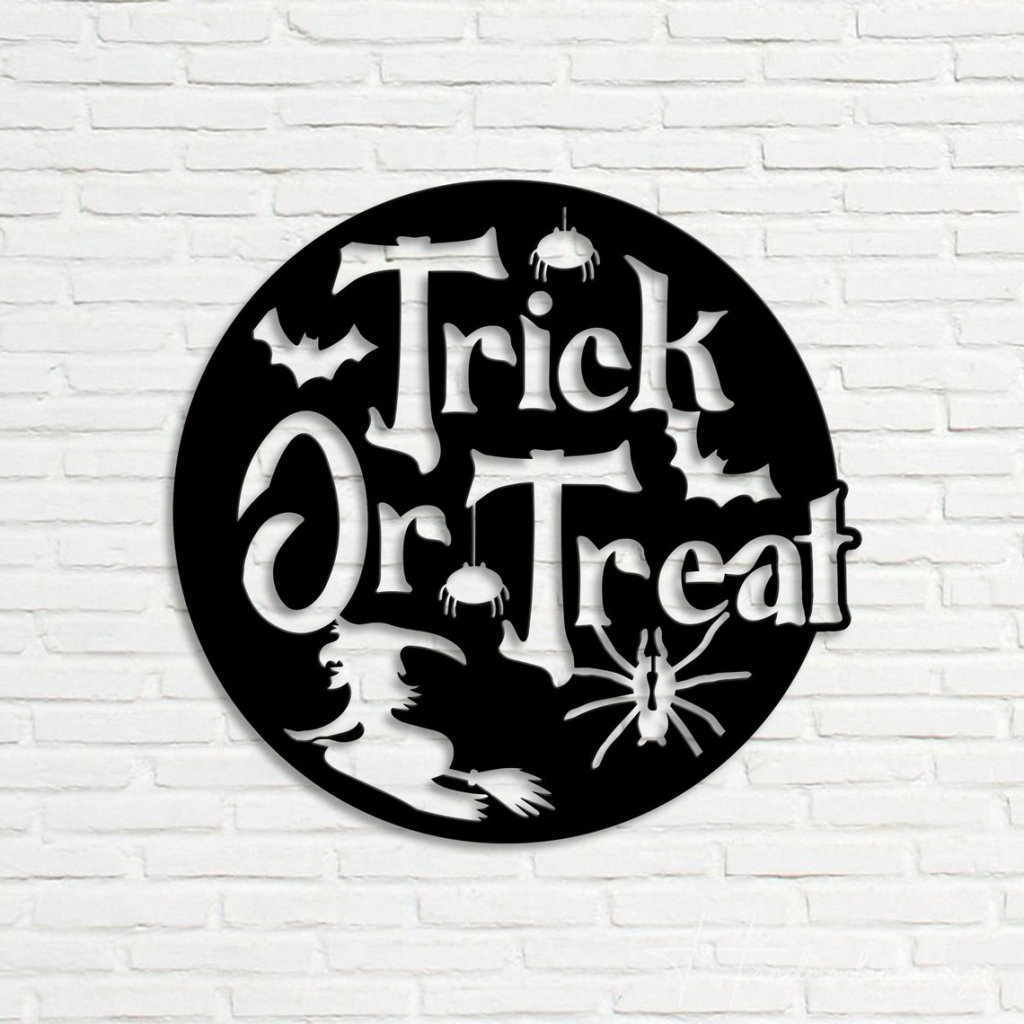 The Trick or Treat Metal Sign features a haunting design of a cackling witch with her broomstick and black cat, setting the perfect Halloween scene. The creepy and spooky vibes of the sign capture the essence of Halloween, making it a must-have decoration for the season.
High-Quality Metal Construction
Made from high-quality metal, this Halloween metal sign is designed to be durable and long-lasting. Its weather-resistant properties allow you to display it both indoors and outdoors, making it a versatile and reliable decoration for Halloween year after year.
Easy to Hang and Display
The Trick or Treat Metal Sign comes with pre-drilled holes and mounting hardware, making it easy to hang and display. Whether you want to hang it on your front door, porch, or in your living room, you can effortlessly add a touch of horror to your home for Halloween.
A Versatile Halloween Decoration
This metal sign is a versatile Halloween decoration that can be used in various ways. Hang it on your front door to greet trick-or-treaters, display it in your living room as part of your Halloween party decor, or place it in your backyard to create a spooky atmosphere for your Halloween celebrations.
Complement Your Halloween Theme
Whether you're going for a classic Halloween look or a more modern and eerie theme, the Trick or Treat Metal Sign will complement any Halloween decor. Its chilling design is a perfect symbol of the season and will add an extra layer of fright to your Halloween festivities.
Create Spooky Halloween Memories
The Trick or Treat Metal Sign is not just a decoration; it's a symbol of the thrills and chills of Halloween. It will become a cherished part of your Halloween traditions, creating spooky memories for you, your family, and your guests.
Final Thoughts
Let the spirit of Halloween come alive with the Trick or Treat Metal Sign. Its haunting design, high-quality construction, and easy display make it a must-have decoration for Halloween enthusiasts. Embrace the horror and fun of the season with this eerie and chilling metal sign, and get ready to enjoy a night of Trick or Treat like never before.